This drama took the characters of two real great korean historical artists/ painter; Danwon and Hyewon. However, here Hyewon or his real name Shin Yoon Bok was potrayed as a woman, disguised as man by his/her adoptive father so she can gained admitance to royal painting institute,
Dohwaseo
. She had vague recollection of her real parents who was murdered right infront of her eyes.
One day, their class had an outing in which they are "free" to paint whatever they wished without having to put their name on their drawing and Yoon Bok painted the above. The seniors of the institute judged the painting as lewd for its hidden meaning; a lady who had just met her lover thus the man's hat she was holding and something abouth the tree. Actually, I think they tried to justify why the Queen Mother asked them to find the painter at all cost or else its their head on the platter!
Why the Queen Mother was meddling in this triflling affair? Because she was the lady that Yoon Bok had paint! You'd think being the Queen Mother, she is old, but actually she was quite young and beautiful to be the current King's Step-Grandmother (picture above). Yes, when Yoon Bok had paint her, she had just met her lover for one last fling while the King was performing some kind of prayer to ask for rain. Though, Yoon Bok had only paint her back, she was afraid she would be found out and set out to find and eliminate the painter. Hmph... if only she did not make such a fuss, no one would notice her distinguishing birthmark under her right ear that Yoon Bok had also paint - she was such a stickler for details!
Anyway, the seniors was at their dead end, none of the student owned up that it was their painting - Yoon Bok made an attempt, but hinder by her adoptive father. As a last resort they had to call back the exiled Kim Hong Do aka Danwon who was such an expert in analysing a painter styles so can identify the painter. He was the one that later who teaches Yoon Bok how to paint and they develop a strong friendship of mentor and disciple.
Danwon was also a close friend to the King who wishes to avenge the wrongful death of his father under the manupulation of the Queen Mother. (The King is the same king as in Yi San). So when the time came to reveal the identity of the painter... Danwon choose not to reveal! When his hands was going to be crushed because of that, Yoon Bok that he send away earlier came running through the gate (in the nick of time!) and said she was the painter. Then her adoptive brother also came forward and claimed the same thing... chaos ensue!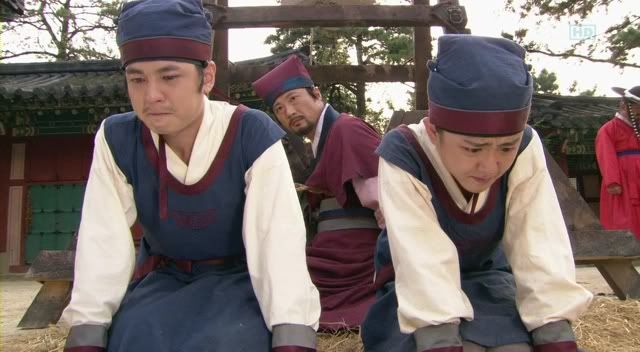 Isn't that sweet, Young Bok tries to comfort Yoon Bok, saying everything will be alright. He will take the blame cause she's more talented than him. But Yoon Bok won't hear of it, she would not let her brother take the fall....

Then, the king came into their rescue and manage to get the Queen Mother to stand back, and he lighten their punishment.

I enjoyed the early part of this drama, how the King witfully handled the Court who was in cohort with the Queen Mother. But the alterations between Yoon Bok and Jeong Hyang make me go Ewwww!!!!! It was understandable for Jeong Hyang to be attracted to Yoon Bok, since she thought she was a he but for Yoon Bok to like Jeong Hyang???? I tried to tell myself at first that the longing look Yoon Bok casts at Jeong Hyang was not that she yearned for Jeong Hyang, but yearning for the woman she could have been...
I would prefer that they tried to get deeper on her relationship with Danwon, even as old as he was compared to her. We know clearly, Danwon feelings for her had turned romantic (even before he know for sure that he was a she, but he fights it!), but what about Yoon Bok to Danwon? Does she still look at him as a teacher/ mentor?

Or maybe developed more story of her with her adoptive brother, Young Bok. When her painting was being questioned, Yoon Bok asks Young Bok if it's really so wrong to make a painting of a woman - after all, every time a woman pass by - men start drooling openly, or all they can talked about when they gathered are women. She comments on the hypocrisy of acting that way, and yet being forbidden to add those parts of life into painting. Then Yoon Bok asks Young Bok if he likes any woman himself, and his over-exaggerated reaction makes it obvious that he does have a lady he likes. And his facial expression suggest that woman is ...Yoon-bok! ( I was delighted with this!). And as the story goes on... more and more so. He was so schwwwwwwwwwwwwwwwwweeeeeeeeeeet.
She was not afraid to make ugly faces on screen.
I do think Korea's Little Sister, Moon Geun Young is cute. (I specially like her when she pretend to be a woman when she was really a woman - so funny! and so believable that she feels awkward being femininely). But the eye-candy in this drama for me are Lee Joon and Bae Soo Bin (the King)! First notice in Jumong, not a major character but still eye-catching. I think it's his eyes that makes me notice him, even when he smiles amusingly, his eyes seem mocking... Then he looks handsome in Emperor of the Sea, but here he looks hot as the king! :D
I won't highly recommend this drama, but I find it an interesting drama nonetheless. It makes me look at a painting/drawing with a new eye. I know I don't have any artistics talents (cant even draw a straight line without a ruler!) but here it shows that to be an artist you need to be observant, know the law of nature etc. Sigh! How I wish I do have the talent. What I would love to paint is the clouds, white thick fluffy clouds with beautiful blue background sky, thin speck of white on a sunny day or even stormy black clouds. I tried to capture it on camera, but my digital camera was not good enough to catch the beauty and grandiose of The Mighty creation.

Park Shin Yang
as Kim Hong Do
Lee Joon
as Shin Young Bok
Bae Soo Bin
as King Jeong Jo
Park Jin Woo
as Jang Hyo Won
Moon Chae Won
as Jeong Hyang

Extended Cast

Park Hyuk Kwon
as Lee In Moon (Kim Hong Do's friend)

Ahn Suk Hwan
as Shin Han Pyeong (Yoon Bok's adopted father)

Ryu Seung Ryong
as Kim Jo Nyun

Jung In Gi
as Hong Gook Young

Im Ji Eun
as Queen Jeong Soon

Kim Eung Soo
as Jang Byuk Soo

Lee Mi Young
as Mok Kye Wol

Yoon Joo Sang
as Kang Soo Hang

Han Jung Soo
as Seo Jing

Lee Kyung Hwa
as Myeong

Kim Yoo Jung
as young Yoon Bok

Lee Byung Joon
as young Young Bok